OS Electronics
Module|OS Electronics
Module

onsemi
MANUFACTURERS Webhttps://www.onsemi.com/products/discrete-power-modules/power-modules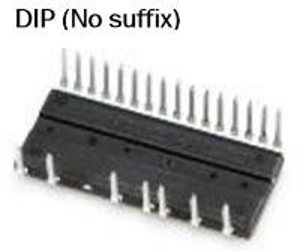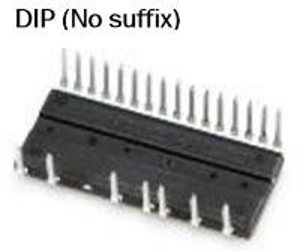 Product features
IPM ; All-in-One Technology & New Technology
IPM (Intelligent Power Module): Module integrated with IGBT, drive, protection circuit, etc.
• By integrating power block into a module, IPM enables minitualization and weight reduction.
• Module is preferred for higher power due to better thermal management
by lower Rth and simpler heat sink structure.

IPM vs Discrete solution
ü
Product price: IPM is more expensive than discrete solution
ü
Total system cost: IPM enables cost reduction w/o need of heatsink and passive components.
IPM enables to cut design resource. PCB space reduction is another cost saving factor.
ü
IPM provide fixed gate souring and sinking current from integrated
Rg
in driver
which is optimized for customer's system.
ü
Note that u
ser can not change switching speed by changing
Rg
values.
ü
Quality of IPM is proven by rigorous reliability test based on JEDEC/ AEC-Q101.
Ø
Lack of pin-compatible products
ü
It is difficult for IPM to find out dual sources which have same footprint.
ü
Now IPM suppliers are trying to develop P2P products.
IGBT IPM VE-Trac

TM

Direct
 - Withstand Voltage : 750V

 - Allowable current : 640A ~ 950A

- Tj : 175℃

 - Built-in thermistor for each phase

  5KΩ(typ)(Tc=25℃ )

- Low Vce(sat) : 1.55V(max) 

- Parasitic inductance: 8nH or less

This IPM can cool down not only by air cooling but by

running a liquid.

Water cooling improves RΘjf and allows greater

power delivery.

   

NVH820S75L4SPB: 0.11℃/W

NVH820S75L4SPC: 0.11℃/W

NVH950S75L4SPB: 0.083℃/W
Tj of the VE-Trac Direct package is 15°C smaller than that of the VE-Trac Dual
when phase current of 400 Arms is applied.
2. Improved module self-loss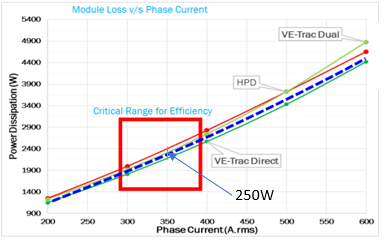 In the most frequently used current area, for example, when phase current of 350A
is applied, self-loss is improved by 250W compared to the HPD series.