OS Electronics
Quality and environmental initiatives
Quality Policy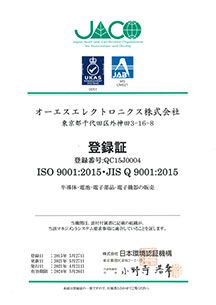 Basic Philosophy
"Act on your word +S and be the top distributor" is our policy based on our management philosophy, "Enrich society with electronic components". To continuously ensure customer satisfaction, we strive to improve the quality of our sales and business activities as one-of-a-kind electronics trading company and contribute to society by offering products and services that serve customer needs and expectations.
Guideline for Action
Customer-centered orientation
We strive to meet the expectations and trust of our customers and enhance our value as a trading company which serves customers with flexibility.
Compliance with laws, regulations, and customer requirements
In compliance with laws and regulations in our business activities, we fulfill our corporate social responsibility by understanding customer requirements and meeting the expectations of all stakeholders.
Communication
We will improve the quality of our operations by promoting active communication with internal and external stakeholders and striving for mutual cooperation.
Improvement activities
Through activities to improve work processes, we will continually work to improve the effectiveness of our quality management system.
We will work on the following activities to improve customer satisfaction.

1)Providing products and services that meet customer needs
2)Rapid response to customer requirements
3)Constant improvement of internal work processes and work quality and prevention of defects
4)Execution of operation based on roles and responsibilities
5)Developing talents who have knowledge and technical skill to achieve goals
Environmental Policy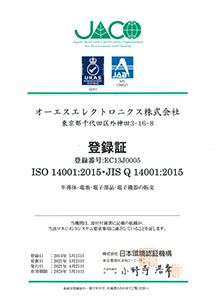 Basic Philosophy
Based on our management philosophy, "Enrich society with electronic components", we conduct business activities according to the Sustainable Development Goals (SDGs), which are the goals of the international community. We take environmental issues seriously. We stive to minimize environmental impacts and contribute to the creation of a society capable of sustainable development through sales activities of environmentally conscious products.
Guideline for Action
Promotion of environmentally responsible activities
To reduce the environmental impact in our business activities, we set goal for environmental considerations, strive to prevent pollution, and engage in sustainable resource use, mitigation of climate change and adaptation to climate change, and activities to conserve biodiversity.
Compliance with Laws and Regulations
We comply with environmental laws and regulations, ordinances, agreements, and other agreements related to our business activities.
Educational activities
We let our community know of our policies through environmental education and activities that contribute to the environment and society. We also raise employee awareness of environmental conservation and actively contribute to environmental conservation activities.
Communication
We promote active communication with internal and external stakeholders and enhance mutual cooperation.
We undertake the following activities to reduce environmental impact.

1) Promote sales of environmentally conscious products
2) Promotion of energy and resource conservation
3) Promotion of recycle-based corporate activities
4) Promotion of green procurement
5) Reduction of hazardous chemicals in products